Over the last 6 weeks people have gone through massive shifts, from political conflict to the solar eclipse and natural disasters. Threats come from so many directions: military missiles, ancient disease rising from glacial melt, environmental toxicity, the list of things to fear is endless. Our news sources are unreliable leaving people open to speculation that fans the flame of fear even more.
We all have the capacity for fear. We all view our situation or circumstances from our own unique perspectives. People who stand in fear find only the negative, worst-case-scenario, what-is-missing perspective. Most of our own fears never come for fruition. But lately, people have been blindsided by events like the recent hurricanes and fires that ravaged Texas, Montana, and Florida.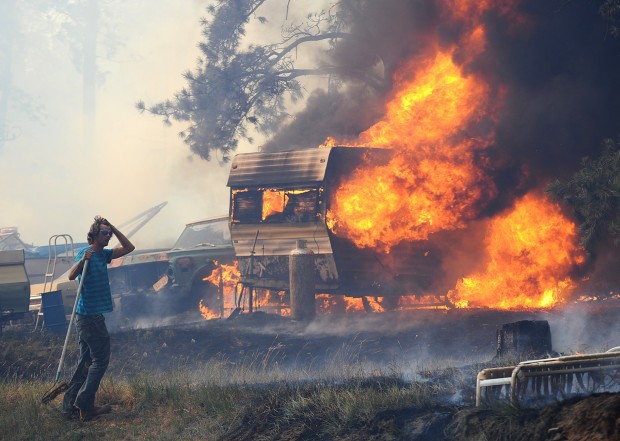 Some folks lost everything and others were unscathed. Some of those who walked away with nothing but the clothes on their backs are full of gratitude and hope, putting one foot in front of the other despite all they've lost. Others see only the darkness and feel crippled by the thought of the unknown. They feel as if they are swimming upstream exhausted.
I had to learn to reframe my perspective first hand. After facing the loss of "everything," I had to go forward one hour at a time and not look back. I was lucky to have a couple dear friends in my corner.
Gone is gone. Crying over what has been lost is energy wasted and unnecessarily stressful. You can only put one foot in front of the other and go forward. Revisiting the past for any reason other than objectivity is time and energy better invested in moving down a new path of the unknown.
A recent interview with a woman who lost everything to Irma on St. John's island was heartbreaking. "I don't know how to do this," she said. "There's no power, no water, no food, no facilities, and nowhere to turn."  On the flipside, there are folks on the mainland with their electricity restored and their homes in tact lamenting over the potential outcome: rising insurance rates, lack of internet access, and the possibility of the next storm finishing them off. These people are not camping in rubble with the mosquitoes in the oppressive 92-degree heat.
What makes one person miserable and another grateful in the moment? Perspective.
Things we take for granted are now luxuries to one who lost everything. Water to drink and wash with, shelter from the heat, a flushing toilet, and food. The woman in shock in St. John wanders lost. Hopefully, she will find help from FEMA or National Guard. Others are swimming in the ocean with the backdrop of destruction. Their perspective? When life hands you clear water and sunshine, might as well enjoy a moment while waiting for the cavalry to arrive.
Starting over with nothing sucks, but you don't need to continue looking through the lens of catastrophe. Seeing through the lens of faith – that things will only get better because it can't be worse – is the best way forward.
Because if you've lost everything, you've got nothing left to lose.